GoodPlanet organizes 1st KlimaatAtelier at Infrabel
Involving all employees in your climate actions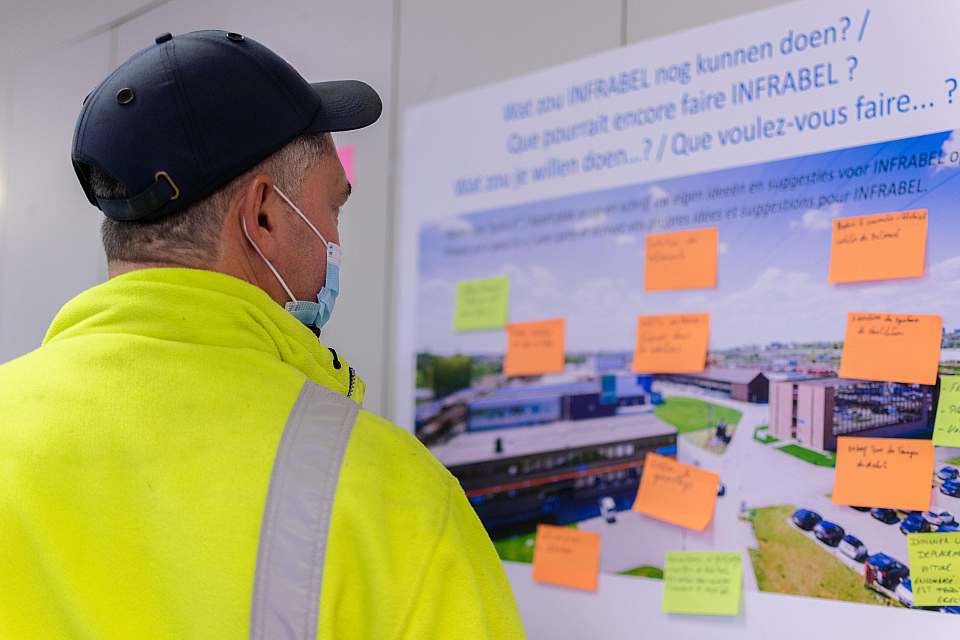 On October 26, GoodPlanet organised three pilot sessions of the 'KlimaatAtelier' at Infrabel. A 'KlimaatAtelier' is an co-creative group session designed to better engage your workers in your organisation's climate strategy and actions (read more about the origins of the project in this article). During this pilote edition, a total of 27 participants from various of Infrabels production and maintenance teams took part.

After a short general introduction on what climate change entails, the participants were able to circulate in four interactive groups.
The pilot sessions featured :
a game in which the individual sources of CO2 emissions at Infrabel were ranked according to their importance in the company's total CO2 emissions. The actions taken by the company to reduce these emissions were also discussed.
a few short videos on concrete cases concerning circular economy, sustainable materials and waste.
a practical exercise to gain insight into the energy consumption of equipment and appliances in the workplace.
a group discussion where insights and ideas were shared on future actions to further reduce CO2 emissions in the workplace.
What did Infrabel think of the sessions?
"Ensemble, la solution est plus facile à trouver!" (from a participant in the workshop)
"Together, we made it a successful workshop. The KlimaatAtelier proved to be a valuable formula for involving our employees from the workshops and the field in the company's climate strategy. The discussions have given us additional insights into experiences and perceptions on the work floor. Thanks for the pleasant cooperation!" (Patricia Grobben, environmental advisor at Infrabel)